---
TAKE YOUR FIGHTING SKILLS TO THE NEXT LEVEL!

Click 

ADD TO

 

CART

 To Get Yours Now


*

Try a Set of the Power Punch Pro Today and Feel The Difference*
  ⠀⠀⠀⠀⠀⠀⠀⠀⠀⠀⠀
The Power Punch Pro adds the 
PERFECT
amount of resistance to maintain proper technique and integrity of striking movements. Resistance training plays a massive role in every sport:
  ⠀⠀⠀⠀⠀⠀⠀⠀⠀⠀⠀
Enhance Speed
Gain Explosive Power 
Increase Muscle Strength & Conditioning
Burn Fat
Designed from a biomechanical perspective to enhance the movement and strength of your lower and upper body. Resistance training has been around for years but never like this. 
For the first time ever, you can train the EXACT motions and forms used in your sport!



BENEFITS
✔ Enhances Your Physical Abilities - The added resistance to your body movements helps improve your general explosiveness, speed, and strength

✔ Suitable For Any Training Program - Added benefit of burning through those excess calories, Power Punch Pro also makes for an excellent killer-cardio workout

✔ Protects Your Joints - Allows you to train many times harder without adding any additional tension to your joints

✔ Adjustable Resistance - Buckles can be adjusted to add more elastic rope to increase resistance and meet your various requirements
✔ Adjustable Fit - The belt is padded to add extra comfort to your waist. It is also easily adjustable and can be changed from 28.7 inches to 41.9 inches, both wrist and ankle straps can also be adjusted to fit so that you can get the perfect workout

✔ Helps Maintain Your Guard - Adds a downward force to your arms that will strengthen your guard

✔ Durable and High Quality - Made from high-quality natural latex, nylon fabric, and ABS - providing comfort, ease, and safety of use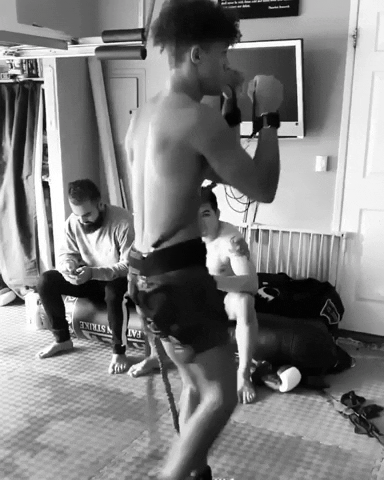 The Power Punch Pro adds a total of 100/140 lbs of resistance depending on the type you choose.
100 lbs variant (25 lbs of resistance in each band) and the 140 lbs variant (35 lbs in each) will help increase your speed and power by making your muscles work against an opposing force.
EACH POWER PUNCH PRO SET INCLUDES

4 x High-Quality Resistance Bands
2 x Adjustable Ankle Straps
2 x Wrist Straps
2 x Foam Handles
An Adjustable Waistbelt
A Carrier Bag
USED AND TRUSTED BY THOUSANDS OF CUSTOMERS ALONG WITH SEVERAL PROFESSIONAL FIGHTERS
The Power Punch Pro has gotten amazing feedback from our customers! Make sure to check out some of the reviews at the bottom, and testimonials on our home page. 
FREE SHIPPING & RETURNS
We offer FREE WORLDWIDE SHIPPING! Also, we guarantee a 100% FULL REFUND if you're not satisfied with the Power Punch Pro, no questions asked.

WHY SHOP WITH US?
Free Worldwide Shipping
High Rate Of Customer Satisfaction
Safe And Secure SSL Protected Checkout
Attentive Customer Support Team